Are you looking for the best kratom for pain relief? Then you should look for red strains because these are the strongest painkillers. But not any red will do. Some are better to take during the day and others at night.
If you want to find a reliable kratom for pain, then continue reading. You'll discover potent strains and the right dose to eliminate your pain.
Top 3 Best Kratom for Pain Relief
Many people write emails to me and ask which kratom is best for pain and promotes restful sleep? Reading stories about waking up 3 to 4 times at night, which robs you of much-needed sleep, was the last straw that made me write this article.

The analgesic properties vary from strain to strain. I will recommend three red strains because these are filled with 7-hydroxymitragynine, the alkaloid that offers you the best pain relief.
Red Bali
What makes kratom such a potent painkiller? The magnificent alkaloid called 7-hydroxmitragynine. It works on opioid receptors in the brain so your body's perception of pain changes for the better.
Red bali is good to take at night because it is highly sedative and analgesic. You can also use it during the day, but avoid that if you're at work.
Grab red thai as well and use it carefully. Depending on your unique body chemistry, it can be the strain that satisfies your deepest kratom needs.
You should grab red kratom capsules if you want to kill intense pain. Capsulated kratom is already measured up for you.
Green Malay
Green malay can do wonders for mild pain and low energy. The effects last longer compared to other strains, up to 8 hours. Good for working days. It can also reduce stress and anxiety and lower blood pressure. Good everyday strain with therapeutic effects.
Blend green malay with red maeng da and you'll have a powerful kratom-mix for effective pain management.
Red Maeng Da
Maeng da is a potent and popular strain recommended for pain. Many people use it in combination with other strains because the other strains you choose will compliment each other. Red maeng da works well with green malay. It gives you pain relief and more energy so you can function during the day.
Red maeng da is a good strain to take during the day. If you want a more sedative strain to use at night you should also get red borneo or red bali so you can earn a well rested sleep and wake up energized. It is one of the best kratom strain for pain.
Kratom for Pain Relief Dose
The dose is important. Too much can be sedating, which might be necessary for some. And a moderate dose might be enough for back pain. Use this dosing chart as a starting point.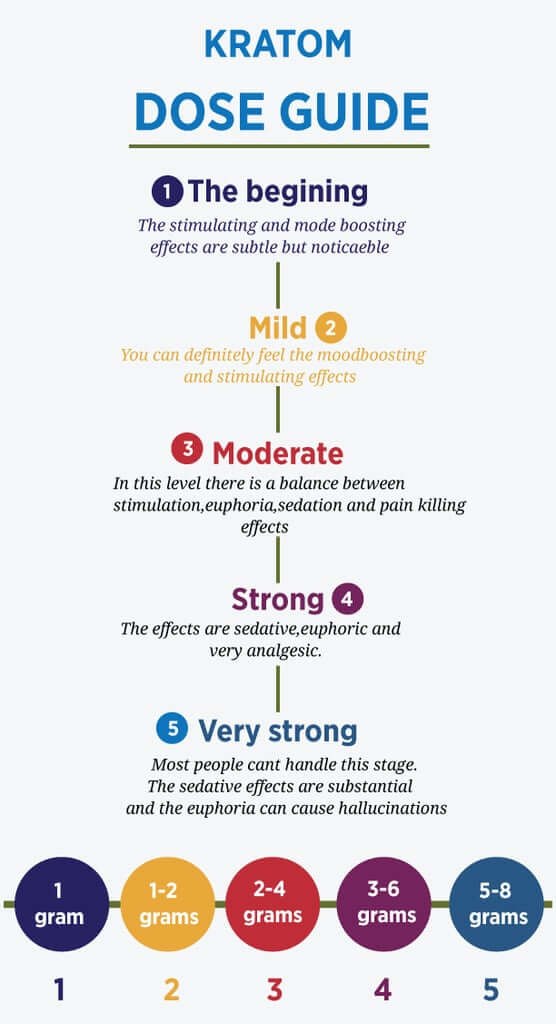 How to Enhance Your Kratom
A good trick to enhance the power of your strain is to blend it with orange juice. The juice will extract the alkaloids so you get more painkilling chemicals (mitragynine) in your system.
Do you need to blend different kratom strains to make it work?
It's probably best to have more than one strain. Let this article show you to the best kratom for pain so you can live the life you deserve.
Why Kratom Offers Pain Relief
Kratom, also known as mitragyna speciosa, consists of plant chemicals called alkaloids. The well known are mitragynine and 7-hydroxymitragynine.
These alkaloids affect the human brain in remarkable ways. It works as a partial agonist of the μ-opioid receptor and beta-endorphin. After consumption, the user experiences the benefits of kratom and can live a life without suffering from arthritis, back pain, fibromyalgia, chronic pain and other forms of pain.
And because it affects opioid receptors, people use kratom to treat opioid withdrawal with a high success rate and can quit using prescriptions.
Conclusion
Kratom is scientifically proven to be a stronger pain reliever than morphine and other medications that can lead to addiction and do harm in the long run.
If you want the best kratom for pain know that most strains can relieve pain. The main thing to have in mind is to pick something that works well at night and one you can take during the day. You should also have strains that give you more energy. And at least a sedative one so you can fall and stay asleep.
No single strain that's best for pain exists. All people have different needs and pains.
You should pick all these three strains. Use bali at night. Maeng da and green malay are good daytime strains because they aren't as sedating as bali. This is good when you need to sleep and then use the other ones during the day so you can function during the day.