Maeng da kratom is enhanced thai kratom from the plant mitragyna speciosa. Now it's more stable during the growth process. Grafting also made it stronger because it's combined with two strains. And faster maturation process increases the alkaloid content.
Maeng da produce unique stimulating effects. High-quality strains are dark green. The smell is euphoric and pleasant.
Should you add this strain that's called "pimp grade" in English, to your collection.
Let's find out what maeng da is all about.
Origin
Maeng da comes from a plantation in Indonesia. Originally from Thailand where it was named after a big water bug called delicacy. Because of the ban in Thailand, farmers settled down in other areas to grow kratom. Places where it can flourish in the tropical environment.
Why graft?
In Indonesia and other areas in Southeast Asia, many people work in a challenging climate. They needed a strong stimulating type of kratom that could help them through manual labor. This is the main reason maeng da kratom appeared.
Fast forward a couple of years, maeng da is now a potent mitragyna speciosa strain in other parts of the world. And for good reasons, too.
Maeng Da Kratom Effects
Red Maeng da kratom has more active alkaloids and flavonoids than other strains. This produces a balance of analgesia and stimulating effects. The stimulating and mood-boosting effects get better if you drink maeng da as tea, but the pain relief tends to be weaker.
Outstanding Stimulant
The dominant effect is stimulation, but with a twist. Unlike most stimulants, maeng da won't leave you sweating or cause any physical discomfort.
Even if you don't do heavy physical work, maeng da works for you who do mental work. Focus and energy blended with fatigue-preventing qualities make it a productive kratom. You can use it instead of coffee at work. Some use maeng da as a study aid and that works well.
Maeng da has shown to:
Reduce symptoms of depression·
Enhance stamina and enthusiasm
Improve memory and concentration
Prevent fatigue
Maeng Da Kratom for Pain?
It's not the best painkiller. You should use maeng da if you have mild pain and can't stand the sedative effects other potent kratom strains offers.
However, red vein maeng da is best to kill pain. Works great during the day. Useful if you want analgesic effects and still want to use your mind with full access.
Red Maeng Da
Red maeng da kratom is more sedating and euphoric compared to green and white. And also the best sellers. The maeng da experience is different for everyone. Some get the energy from white and others get it from red. You need to test each color. Red vein tends to satisfy most people, though.
White Maeng Da
White maeng da kratom is almost as popular as red. They're energizing and refreshing. Good choice to start your day. White maeng da can also treat insomnia and promote restful sleep if you take it early in the day.
Green Maeng Da
Green maeng da kratom can improve your emotional balance and produce a pleasant inner feeling. Green is not as popular. You should get it if you want to improve mood and your brainpower.
Ultra Enhanced Maeng Da (UEMD)
Maeng da used to be the strongest kratom available a couple of years ago. Other strains took over. Herbalists created this beast to cover up.
Ultra maeng da means it's infused with more pure alkaloids. Do you want to feel the power of what it is truly capable of? Then you should try UEMD.
Maeng Da Kratom Review
For me, maeng da is energy. A stimulant. Productivity. Focus. Brain health. And something that can help you through the day with a positive mindset.
Let's see what others have to say:
Maeng Da Kratom Powder
Let's have a look where maeng da stands in comparison to other strains.
Bali Kratom vs Maeng Da
Both produce distinctly different effects. Maeng da is more stimulating and active than bali kratom. It can improve concentration and your sleep schedule (if it's broken).
Maeng da is known for concentration, stimulation, relaxation, mood, and opiate withdrawal. Bali is known for mild stimulation, euphoria, sedation, relaxation, pain relief.
Maeng Da Vs. Green Malay
Green malay is one of the strongest kratoms you can take. The effects are consistent. Like maeng da, green malay can boost your energy to a point where you don't need caffeinated drinks.
What sets them apart?
Green malay can enhance your immune system by releasing powerful antioxidants in your system. Green malay calms your mind better. Both can improve your sleep.
You can't say for certain which one is best, you must try them both. It all comes down to your unique kratom needs.
Maeng Da Kratom Capsules
You can check out this post with my favorite quality vendors. There's so many these days.
Most vendors get kratom from the same source as others. Maeng da capsules you can find at Purkratom. You can also get powder here. The ultra enhanced version you should get from Kratora. Coastline kratom has red and white only and the red vein is highly popular.
Red Maeng Da kratom capsules are probably the best options since the tase is far more bitter compared to other red strains.
Dosage
You only need 1-2 grams to feel it, even less with UEMD. Less than 4grams is the sweet spot that offers you all the benefits. Here's a good dosage guideline as well, extracted from our in-depth kratom guide.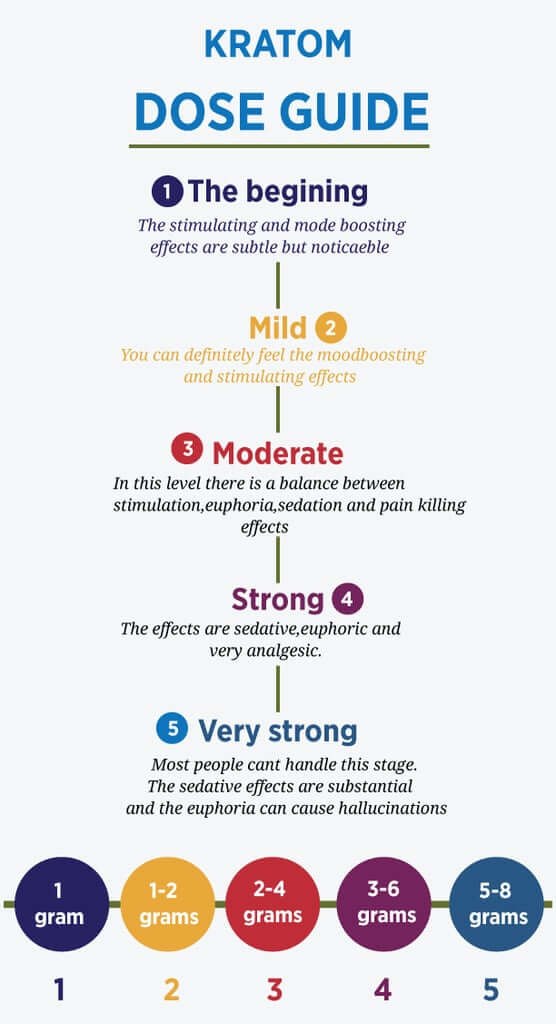 Conclusion
Maeng Da Kratom is one of the best strains. If you want a potent Kratom that can help and reduce your pain, get the red vein.
Red maeng da kratom can soothe pain and simultaneously boost your energy. Green maeng da tend to be weaker than red. Instead of green, you should always go for white if you don't need red. Otherwise, try red first.